Helix Overview: Many Specialized Reports to Choose From
Helix Population Genomics employs exome sequencing for DNA analysis, examining the entire protein-coding region of the genome for a comprehensive perspective. This approach provides in-depth insights into ancestry, possible health risks, carrier status, and physical traits. The critical question is whether Helix's use of exome sequencing results in superior report quality. We will delve into the specifics to assess if the increased testing costs are justified.
How Helix DNA Works
Helix sends you a kit so that you can collect and send in a one-time saliva sample for DNA analysis. The kit contains everything you need to put your DNA "on-file" for future reports, such as the add-on ancestry report.

Note that you can only order Helix test kits in the United States.
Helix's Ancestry Test
People take ancestry DNA tests to discover the ethnicities of their ancestors, where they lived, and how they migrated around the globe. Helix's only test of this kind is called Helix Ancestry.
Helix Ancestry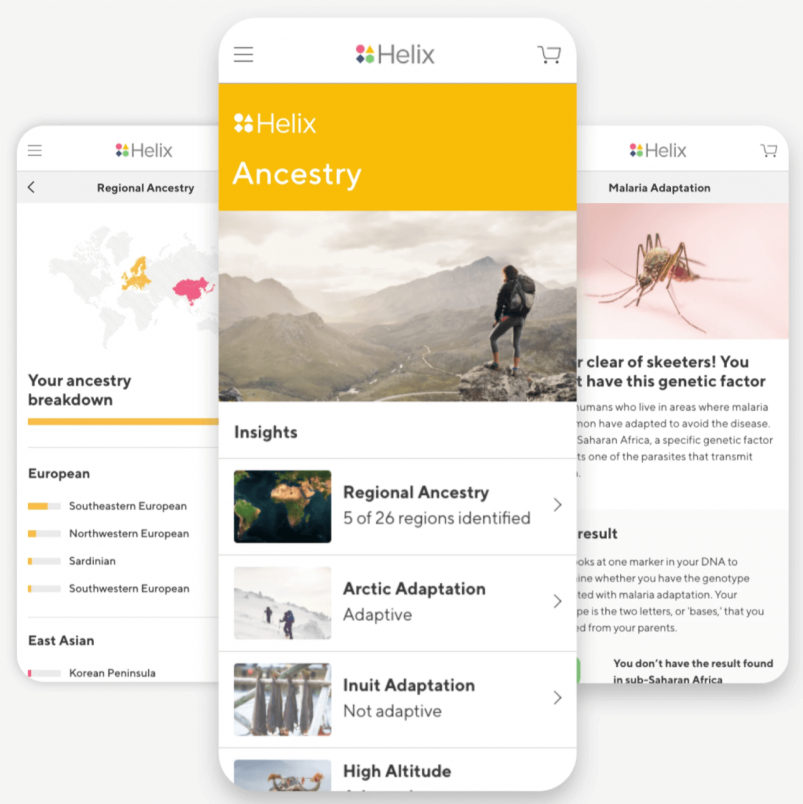 This test explores your ancestors' ethnic roots, broken down into 26 global regions within eight broad geographic regions: East Asia, Europe, Indigenous America, Arctic, Oceania, Middle East and North Africa, South Asia, and Sub-Saharan Africa. It tells you the percentages of these ethnicities reflected in your DNA.
The report can also tell you some interesting things based on your detected genetic traits. For example, you'll learn whether you're genetically adapted to high altitudes (mainly people of Tibetan descent) or to survival in the Arctic.
More practical value may be obtained from knowing if you're likely to be lactose intolerant, better able to metabolize fat (like an Inuit), or resistant to malaria.
To get this free report, you first have to have taken one of the wellness tests (discussed next), so that Helix has your DNA on file.
How Helix Population Genomics Compares to Other Companies
When exploring genetic testing options, it's helpful to compare different providers. The following table compares Helix Population Genomics with two of its major competitors, AncestryDNA and MyHeritage DNA. It highlights key features such as genetic testing options, ancestry analysis, health traits analysis, pricing, sample collection methods, processing time, privacy policies, and more.
| Features | Helix Population Genomics | AncestryDNA | MyHeritage DNA |
| --- | --- | --- | --- |
| Genetic Testing | Yes | Yes | Yes |
| Ancestry Analysis | Yes | Yes | Yes |
| Health Traits Analysis | Yes | No | No |
| Carrier Status Testing | No | No | No |
| Pharmacogenomics | No | No | No |
| Raw Data Access | Yes | Yes | Yes |
| Sample Collection | Saliva or Cheek Swab | Saliva | Cheek Swab |
| Test Processing Time | Varies (usually a few weeks) | Varies (usually 6-8 weeks) | Varies (usually 3-4 weeks) |
| Price Range | $80 – $500 | $99 – $149 | $79 – $199 |
| Privacy Policy | Comprehensive privacy protections | Comprehensive privacy protections | Comprehensive privacy protections |
| Customer Support | Available | Available | Available |
| Insurance Coverage | Typically not covered | Typically not covered | Typically not covered |
Pricing: Possibly Worth It
Helix accepts payments via Visa, MasterCard, American Express, and most other credit cards.
Most of Helix's DNA tests are more expensive than similar ones from other companies, which could be because of its exome sequencing approach (rather than the more usual genotyping).
However, Helix does offer three tests for free, if you are already a Helix customer. After an initial purchase, you can also access most other tests at a discounted rate (sometimes at just 10% of the list price)!
Exome sequencing can identify the genetic variants in all of an individual's genes, including very rare genetic variants that are only present in a small number of individuals. If this means it can pick up the gene variants for a rare Mendelian disease, it may well be worth paying the high price – at least for the first test.
Ascendência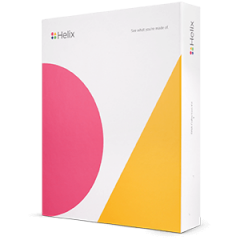 Ancestry
Results are broken down into 26 regional groups
Find out if you have certain adaptions, including Altitude and Arctic
Separate test available to determine your Neanderthal ancestors
Customer Support: You Need to Be Specific
Helix's self-support resources are provided in the form of a searchable Help Center populated with articles arranged into various categories. The accompanying chatbot always appears to be offline, but maybe I've just been unlucky.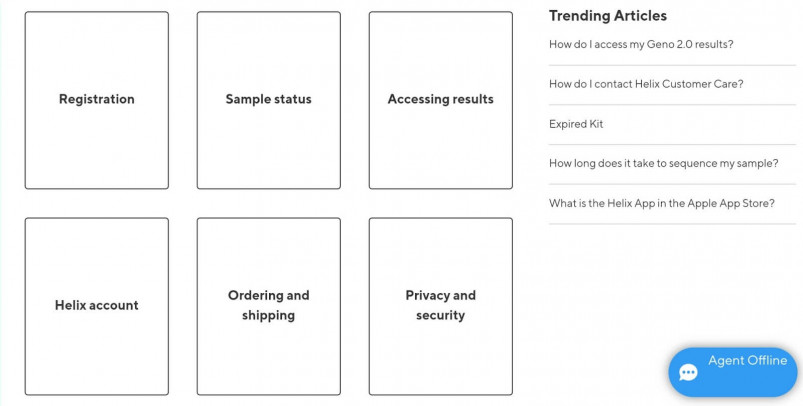 If the self-support resources don't answer your questions, you can call the company or fill out the "Contact Customer Support" form. I submitted an initial question to ask about whether the reports were worth the cost, and the support agent responded with a somewhat generic answer.
I asked a second question about the availability of tests internationally. This time, I received a more targeted response: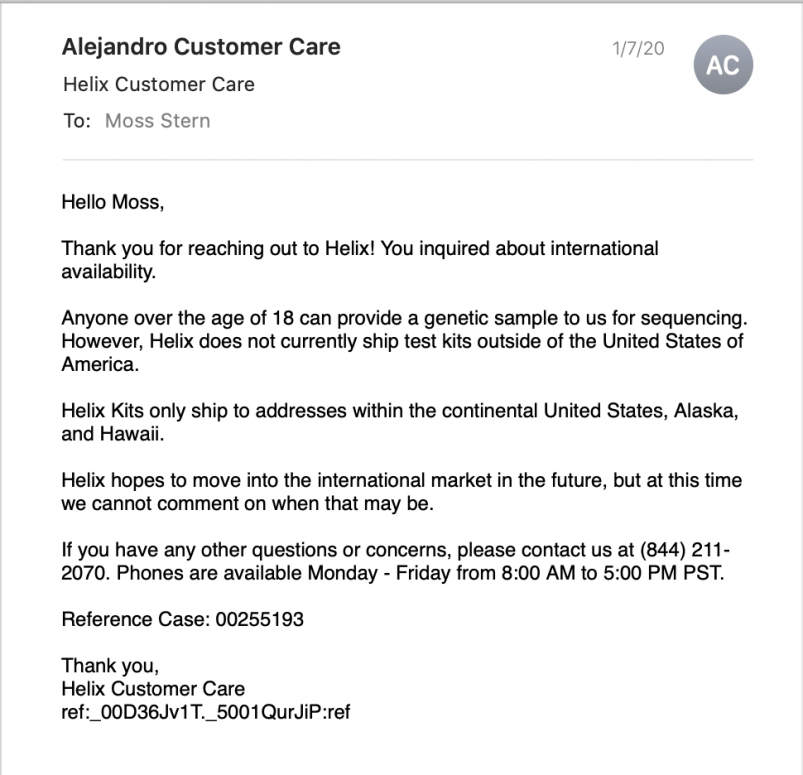 Higher Prices for Better Insights (and Some Free Stuff)
One of Helix's key selling points is its use of exome sequencing rather than genotyping, which means that – theoretically – it could discover predispositions to rare genetic diseases that other companies' DNA tests don't detect. I can't be sure that it does, and since I'm unlikely to be one of those rare cases, I'd personally prefer to take my chances with one of the other testing companies that cost less.
It is true to say that Helix goes into greater detail than most of its competitors in certain areas. For example, its CarrierCheck tests your carrier status for 67 different conditions. Likewise, the GenePrism: Actionable Insights report includes genetic risks for 32 diseases.
If you do decide to make the purchase, remember that getting your genome sequenced via one of Helix's expensive tests also entitles you to free additional reports for Ancestry and Wellness (including one specifically for Women's Wellness). Be sure to put these in your cart for better value-for-money.
FAQ
How accurate is Helix?
Helix is adequate in terms of accuracy. However, it can't yet compare to some of the bigger names on the market, e.g., 23andMe and AncestryDNA. That's in part due to its database size, which is comparably much smaller.
How long does it take to receive results from a Helix test?
Approximately 1-2 months.
How much does a Helix test cost? (Any discounts?)
Most of Helix's DNA products are on the more expensive side of the pricing spectrum (€ 133,76) than what you'd get from similar companies. That's probably due to the testing methodology it uses (exome sequencing approach). On the bright side, however, Helix does offer three tests for free if you're a customer already. After an initial purchase, you can also access most other tests at a discounted rate (sometimes at just 10% of the list price).
Who should consider taking a Helix test?
Given that Helix uses exome genome sequencing, which (in theory) can discover predispositions to rare genetic diseases better than other methods, you should consider this company if you're willing to take a calculated risk with a company that may provide you with better health screening than some of the bigger names out there, like 23andMe. At the very least, keep it in mind if you're looking for a lot of detail, because Helix definitely ticks that box.